US BioTek offers a variety of CE accredited webinars with credits available for both live and on demand attendance.
CE Webinars are accredited by the American Association of Naturopathic Physicians (AANP) which will be distributing CE Credit documentation following your participation. The timing of your CE documentation will depend on whether you attend a live or on-demand event.
Live CE Webinar Attendance:
If you attend a live CE Webinar event US BioTek will send your attendance to the American Association of Naturopathic Physicians the day following the live presentation event. The AANP will distribute documentation within 5 business days of receiving the attendance information.
On-Demand CE Webinar Attendance:
To receive CE credit for on-demand webinar attendance you must complete and pass the quick 5-question quiz following the webinar presentation. You can find a link to the required quiz to the left of the embedded webinar video.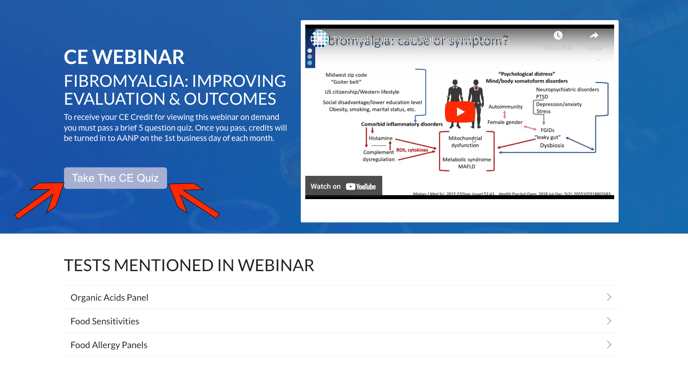 Once you have completed and passed the 5 question quiz, your attendance will be solidified and your name will be added to the monthly attendance list.
US BioTek submits on-demand attendance for all CE webinars to AANP once a month, usually within the first 4 business days of each month. Once submitted to AANP it can take up to 5 business days to receive your CE documentation.